Robert Hawker – Point to Point Trainer
18-November-2019
18-November-2019 20:07
in General
by Admin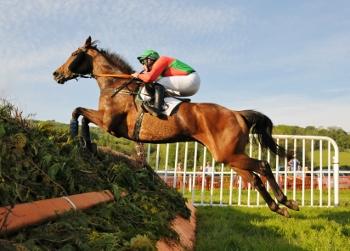 The expanding family training operation based at Rode Farm, Rode near Frome run by Richard and Sarah Hawker supported by their son Robert and daughter Charlotte has both National Hunt horses and the point to pointers which will be looked after by Robert. A brand new stable block put up at the farm house the point to point horses to be trained as well as pre trainers and youngsters and Robert hopes to race seven horses during the forthcoming season.
He outlined his hopes for his horses as follows:-
Jack Snipe – The stable star from last season. Relished the change to point to pointing and built up a good relationship with Shane Quinlan who recorded three wins on the gelding at Chipley Park, Badbury Rings and Cothelstone. In between he recorded a remarkable win at Milborne St Andrew when ridden by Will Biddick when catching long-time leader Woodfleet in the shadow of the post. Adopts front running tactics and his jumping stands him in good stead as his rivals floundered in his wake last season. He is likely to have a similar programme in 2020 starting at Chipley Park but might take in a Hunter Chase during the season. Robert hopes to ride him during the new season.
Five Gold Bars – A 6 year old Goldwell gelding who won a Maiden at Kilworthy last season. He needs very soft ground to show his best form and he should pick up a Restricted race at least next season. He might also start his campaign at Chipley Park in January.
Janeslittlevoice – A 5 year old mare bred by her owner Jane Nicholls by the stallion Jelani. Only had a single race last season and has not long been at the yard. Holds an entry on Sunday at Dunsmore and it will be interesting to see how she runs as she did not get very far in her previous outing...
Restless Brian – An unraced 5 year old gelding by Brian Boru. The last foal from the mare Restless Native who produced the multiple winner Restless Harry. He might also debut at Chipley Park.
An unnamed 4 year old gelding by Kayf Tara out of Sweet Shooter and is a half- brother to Gentleman Farmer
Tara Snipe – A half-sister to Jack Snipe and Super Snipe who is by Kayf Tara. She won a Maiden at the end of last season and was due to return to Robert a little later than the others.
The Full Jonty – Placed at Cothelstone in a Maiden at the end of last season and will also be coming back to the yard at the same time as Tara Snipe.
Robert is hoping to return to the saddle next season after missing all of last season and Martin 'Fly 'McIntyre and Will Biddick may take rides for the stable.